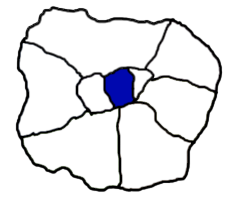 PIN

The Golden Hinde
Queen Elizabeth`s Secret Weapon
The Golden Hinde, docked in Southwark near London Bridge is within sight of the Thames. Guided tours are provided by staff dressed in period costume, and during term-time, school groups can spend a day on board learning about life at sea in the 16th century.
History
Sir Francis Drake completed the second-ever circumnavigation of the world between 1577-80 in a galleon (multi-decked sailing ship) called the Golden Hinde. Not much bigger than a medium sized pleasure craft, the Hind became the terror of the Spanish Maine where as a royally commissioned privateer (state sponsored pirate), Drake took on the might of the Spanish fleet making it back to Europe with looted treasure. On 1 March 1579, now in the Pacific Ocean off the coast of Ecuador, Golden Hind challenged and captured the Spanish galleon Nuestra Señora de la Concepción. This galleon had the largest treasure captured to that date: over 360,000 Pesos.[The six tons of treasure took six days to transship (transfer cargo between ships).



On 26 September 1580, Drake sailed his ship into Plymouth Harbour with only 56 of the original crew of 80 left aboard. Despite his piratical conduct, Queen Elizabeth I herself went aboard Golden Hind, which was lying at Deptford in the Thames Estuary and personally bestowed a knighthood on him; her share of the treasure came to almost £160,000: "enough to pay off her entire foreign debt and still have £40,000 left over to invest in a new trading company for the Levant (large area in Eastern Mediterranean)". Her return and that of other investors came to £47 for every £1 invested, or a total return of 4,700%.



After Drake's circumnavigation, Golden Hind was maintained for public exhibition in Deptford. This is the earliest known example of a ship being maintained for public display because of her historic significance. Golden Hind remained there for nearly 100 years before she eventually rotted away and was finally broken up.

Do More
Visitors can also stay on the ship overnight to get a hands-on taste of what life as a crew member would be like. They are able to help out on the boat, and learn about navigation and gunnery. At night, after a feast of Tudor foods, visitors sleep between the cannons on the gundeck.
Twitter Feed
Tags
Accommodation
, Southwark
, History
, Museum
, Culture
, close to river
, Adventure/Action
, The Southbank
, The Striking South East
, Child Friendly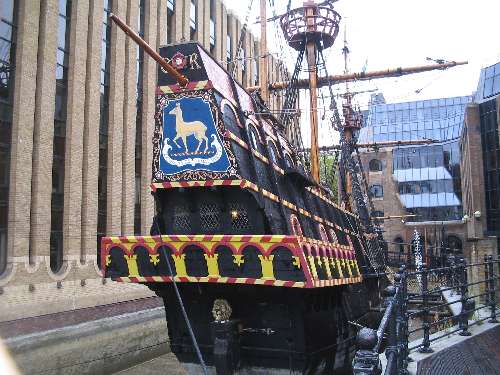 Recent Reviews
"all aboard"
Great tour and not a single seasick sailor amongst our lubberly crew
Reviewed by Peter 7 years ago