I can remember when the height of sophisticated London dining was several hastily consumed pints of fizzy beer and a rush to the local Indian restaurant for a 'make-it-as-hot-as-you-can' curry. These days visitors to our city, whether centrally based or those staying in the more exotic outer boroughs, have access to a plethora of choice that appeals to the most sceptical and jaded of palates. There are numerous travel writers of all different flavours who persevere in posting fascinating insights into where such exotic and heart warming fare can be enjoyed – and of course how to get there. They also remind us all of how important 'the experience' should be – with which I wholeheartedly concur – and with this in mind I would like to make a few suggestions myself.

As a native Londoner 'the experience' is not solely about the restaurant, where we can sit and and dine and are either well-treated or even abused by our host: but it is much more about the journey, where we meet and its proximity to 'other stuff' and the kaleidoscope of local colour that can be imbibed 'en route'. I have put together a few of my favourite 'combos' – that is to say local hostelries and eateries that have conspired to provide me and my fellow gastronomes with memorable experiences.

1) Feng Shui/The Blue Posts/ Balcony RFH
The Feng Shui Inn on Gerrard Street is slap-bang in the middle of Soho's China Town and specialises in the ancient art of of making superb dim sum. It is small and intimate and diners are greeted by a carnival dragon that guards the doorway. This family-run restaurant embodies the style of a traditional Chinese traveller inn, with its elegant plum walls, red paper lanterns and polished stone figurines. The décor is in keeping with feng shui principles, with plants and ornaments being moved around each year to bring harmony and happiness to their customers. Whilst on the subject of 'combos' staff are happy to educate their guests on the best dim sum/ beer variations and I have always left satisfied and content to journey to my next port of call.

This has quite often been a brisk walk through the Soho's 'hub-bub where a brisk walk takes me to the Blue Posts, Arlington Street, just off St. James Avenue. Here old London pub life meets the new and fellow quaffers can enjoy a nice roomy atmosphere where they can enjoy an extended selection of local craft beers and Taylor Walker's very own brew - 1730 Special Pale Ale with its distinctive flavour and use of local ingredients. Staff and management are polite and obliging as evidenced by my (succesful) request for the TV channel to be changed in favour of showing a particularly obscure sporting event.

A few pints later and a brisk walk via the Millenium Bridge will deposit the lucky reveller to the vantage point of the balcony of the Royal Festival Hall where they can watch the intoxicating scene of the river bidding good night to its' inhabitants on either bank.


The Thames was beautiful, dark, and swift beneath the billion yellow and white lights of the city…

2) Marquis of Anglesey/Cotes Brasserie
The Marquis of Anglessey in Covent Garden (The MOA) was rebuilt after being bombed during the Blitz, and now sports a modern interior be-decked with historic photos that support its' place in history'. It is my favourite pub in 'the Garden' and has not changed much from when the local trade were porters from the surrounding 'fruit and veg' market rather than inquisitive visitors to London. It is big enough to get lost in yet small enough to meet someone without having to resort to the mobile phone. It stands opposite the Royal Opera House where culture seekers can visit this famous opera house venue and is adjacent to the home of modern policing where the Bow Street Runners emerged a couple of hundred years ago. Although the beer is a little pricey here the service is very good and a number of the serving staff have been a constant fixture for many years.

There are a stack of decent restaurants within easy walking walking distance including a very passable anglo/french establishment, the Cotes Brasserie in Tavistock Street around the corner. This restaurant manages to cater for large numbers of diners in a very acceptable manner and is always a pre-Chrismas fixture for me. The service is pretty good, although very French and the food is usually of a high standard – you cant go wrong with the Steak Frites. The price is non abusive and £50 will provide the diner with a sufficiency of good fare including some decent wine. If you still have room for more libation the multiplicity of Convent Garden's drinking holes offer a siren call.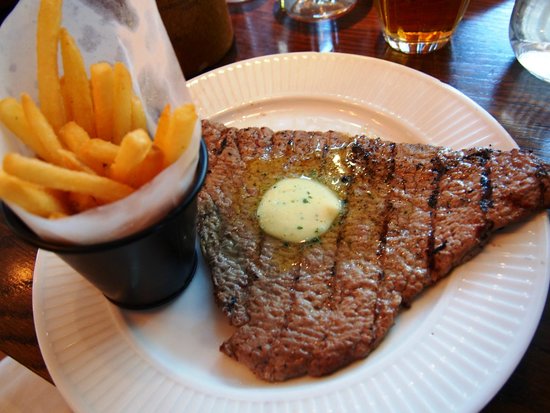 ---
3) Jamaica Wine Bar/ Simpsons Tavern
For City dwellers these two establishments need no introduction but for the vistor looking for a different eating and drinking experience these two places will provide something of an holistic yet memorable event to be enjoyed in daylight hours. Pre-lunch ales can be consumed within or without the Jamaica or 'Jam Pot' as it is known locally.

The Jam Pot is hidden away in St Michael's Alley, amid a labyrinth of similar medieval courts and backstreets close to the Bank of England and oozes historical significance from every original wood panel. Here London's first ever coffee house opened in 1652, where Samuel Pepys created content for his diaries in a non-digital age and famously once said "Strange to see how a good dinner and feasting reconciles everybody". Now, city workers and tourists rub shoulders and enjoy a pre-lunch drink in an ancient setting.

When it is time for solid sustenance Simpsons Tavern beckons and a two-minute stroll through ancient alleyways reveals this famous lunch establishment in all its glory. Its is not always possible to book but a word in the Maitre D's ear and a brief wait normally ensures access to one of the three floors of tables. It is often quite anarchic, particularly at Christmas and you might even be asked to share a table with strangers (which is all part of the fun). It serves solid English vitals – grills and pies abound – a decent choice of wine and for the more inquisitive - the carafe of port is a must. A fifty-pound note will provide a decent lunch for 2 in a very British atmosphere seated in cosy wooden cubicles where the ambience is highly redolent of its heritage dating back to 1757.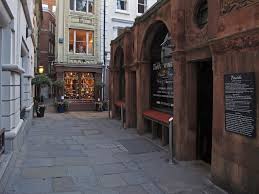 ---

Strange to see how a good dinner and feasting reconciles everybody

4) The Waterloo Tap/ Meson Don Phillipe
Last on my list is this eclectic combination of what is essentially a 'pop-up' pub and a highly original tapas bar on the Southbank of the River Thames.

The Waterloo Tap is situated under a railway arch supporting one of the arterial lines coming from the station of the same name. It is very basic and part of a small chain of 'Taps' (Euston is the other one). It is small, unfussy and far removed from the beloved Camra pleasing alehouses of the late 70s. It is very new age and supports numerous high-ABV brews in the process. It is very cost effective and visitors are treated to a variety of ales from the 20-strong keg selection (plus six on cask) which are presented on big TV screens either side of the bar. Although theoretically a good idea, each only displays half the list, so anyone ordering from the end of the bar may miss out on something unforgettable. If you have time for 'research' the variety on offer will not let you down.

Do not stay too long or you might forget how to get to the Meson Don Phillipe – an authentic tapas bar that plays Flamenco every night. You can be assured of some lovely original dishes - 'espinacas con piñones y pasas' and 'habas con jamon' are my two favourites. A flaming 'carajillo' provides the perfect punctuation for any meal here. You cannot miss the place – it is occupies an old bank building in the Cut opposite the Young Vic and sits halfway along the busy thoroughfare that links Waterloo Road to Blackfriars Road. It is at the very epicentre of Lambeth 'luvvie-dom'. As Charles Dickens once remarked 'Whatever changes of fashion the drama knows elsewhere, it is always fashionable in the Cut'


Whatever changes of fashion the drama knows elsewhere, it is always fashionable in the Cut

Anyway, these are but four of my favourite hostelry/eatery combos. Enjoy and respect them in equal measure as they all form part of our tapestry of happy London memories


There are no discussions