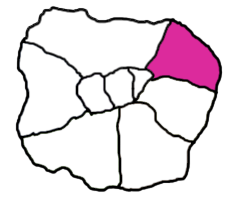 PIN

Dennis Severs House
Performance Art from the 18th & 19th Centuries
Dennis Severs was a Californian born in post-war 1948 who made his home in a dilapidated house in Folgate Street in 1979 where the City ends and the East End begins. This area, which adjoins Spitalfields Market, was quite run down then compared to its present day up market appeal and numerous artists began to infiltrate the area setting up a variety of bohemian 'hang-outs'.

The house itself is on the south side of Folgate Street, and dates back to 1724. It is one of many terraced of houses beloved of 'turn-of-the-century' Britain and is built from quite eye catching brown brick with red brick dressings and stands over four storeys high with a basement.

Dennis Severs` House in Folgate Street is a still-life drama created by the previous owner as an historical imagination of what life would have been like inside for a family of Huguenot silk weavers. It is part time capsule; part social study from 1979 to 1999 was lived in by the owner who gradually recreated the rooms as living period portraits in the style of former centuries.

The rooms depict the lives of a family of Huguenot silk-weavers from 1724 to the dawn of the 20th Century and has been described as both intimate and breathtaking. Visitors can follow the family's fortunes through ascending generations, and the attendant sights, smells and sounds of the house take you further into their lives.

It was the owners intention that visitors should enter the house it is as if they had passed through the surface of a painting giving way to a sensual exploration of imagination against an 18th century backdrop.




What's it all about
Visitors are asked to imagine that they have just walked into the home of Huguenot silk weavers, the Jervis family, who can be 'sensed' but not seen. Clearly Severs was a method artist because when he restored the house he immersed himself in the period with no 'mod cons' like electricity or modern plumbing. Each room is expertly recreated in the style of the day straddling two centuries and creating fascinating studies from Georgian and Victorian domestic life.

Visitors can silently wander all 10 rooms and up and down the creaking stairs to get an extraordinary feeling that they have slipped back a couple of centuries without the aid of a Tardis. Half-eaten plates of food on tables are joined by unfinished glasses of wine, hastily strewn clothing thrown over chairs, smells of cooking drifting up from the kitchen and the sound of distant voices. Visitors are requested to respect the silence of each room as they pass through intimate and formal settings, absorbing what Severs described as "a collection of atmospheres: moods that harbour the light and the spirit of various ages".

How to get there
Underground to to Liverpool Street overground to Shoredith High Street will get you close by. Then a brief walk by 'Shanks Pony' will take you straight there
Tags
Museum
, Culture
, family
, Tours
, Exotic East
from
£10.00-60.00

per person

EVERY MONDAY, WEDNESDAY AND FRIDAY (INCLUDING BANK HOLIDAYS) FROM 5PM - 9PM
Recent Reviews
There are no reviews yet for this Triptoid.