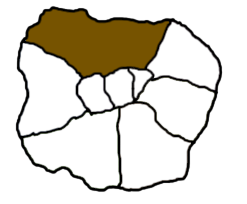 PIN

Kristin Baybars
Dolls houses, miniatures and toys
Kristin Baybar has been making and selling doll's houses, miniatures and toys for forty years or more from her self-styled shop in Gospel Oak, London. The shop is opposite the overground station and visitors need to be aware of what they are looking for or they will miss it completely. It is without doubt unique and contains a huge collection of vintage (and more contemporary) dolls houses, miniatures and toys. The shop is neither a toy shop nor a museum but contains elements of both and can more correctly be described as 'an experience' with toys, dolls and 'knick-knacks' occupying every available space. The shelves are positively groaning with merchandise from another time and space and are a sheer delight for parents and children wishing to go back in time when there were many toy-shops were like this.

Today, the shop is the only place in London where customers can see and purchase such an array of fine merchandise – all of it hand-crafted and exquisitely designed. Be warned it is a cash-only establishment although there is an ATM next door.
History
The proprietor has been making toys for over 70 years and started her working life in Heal's where she spotted a gap in the market for customers looking for toys that were decidedly not "run-of-mill". One of her earlier claims to fame is that she designed and made the iconic Humpty toy for BBCs long-running Playschool series. She is an undoubted expert in her field and customers are unlikely to experience her merchandise anywhere else in London if indeed, the world.
TripTide Thoughts
We have never been to a shop quite like this – it is packed from ceiling to floor with wonderful stuff. A child's (and parent's) delight - if ever!
How to get there
If you are coming from Central London, take the Victoria Underground Line and get off at Highbury and Islington. Then get the Overground to Gospel Oak and the shop is opposite the station. It is in a weather-worn pink building but beware – there is no shop sign and visitors will need to knock on the door to get in. Best of all it is 10 minutes walk from Camden Market for those looking to create an unforgettable day around the area.
Tags
History
, Indoor
, Shopping
, Magnetic North
, North London
from
£0.50-500.00

per item

Cash Only
Recent Reviews
"Wow!"
I have never seen anything like this before and with a story that matches the visuals
Reviewed by Peter 4 years ago