The Underdog of London's Fast-Food
When it comes to grabbing a quick bite to eat, you may go to a local Mcdonalds, KFC or even Nandos. However, there is more to this than meets the eye. Beyond the hype surrounding these mainstream restaurants, lies the underrated chicken shops of London, that provide quality service, for a much cheaper price. Many Londoners, back in their secondary school days, were filled with excitement at the thought of grabbing some wings and chips, after school with mates, at their local chicken shop. It is fair to say that chicken shops are more than just a quick and cheap meal, but also serves as a 'home from home' for customers. Although they may not be known around the country, chicken shops never fail to provide its customers with great food while simultaneously showcasing a more authentic and raw side of London.

Chicken shops are more than a part of London—they are London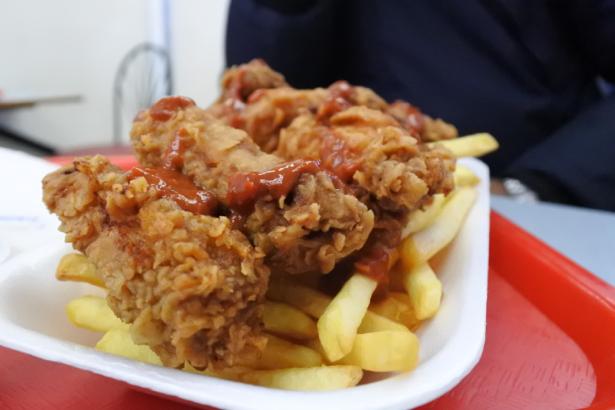 ---
OK.. but what makes them so special?
What distinguishes chicken shops from these other well-known fast-food restaurants is that they do not move with the times. They are a 'constant' in an ever-changing sea of change. You may be reading this article and thinking "this is a bad thing" or "If you don't keep with the times, you'll get left behind". For most businesses, this has proved to be the case, but London's chicken shops defy the norm. As technology advances, we begin to lose and take for granted the significance of human interaction as has been starkly illustrated during the COVID 19 crisis. For example, recently my friends and I were looking for somewhere to eat and we spotted a nearby Mcdonalds. As we went inside, we looked around and saw a vast amount of self-service machines and no seating area. I was amazed at the fact that the whole of Mcdonalds had turned into a walk-in takeaway. In comparison, most 'chicken shops' operate in the traditional way, and will always have some form of seating area, whether it is a couple of stools on the sides or a full-on diner setting. Essentially, as time goes on, they will always stand the test of time by continuing to be the place that is more than just a 'pitstop' to refuel.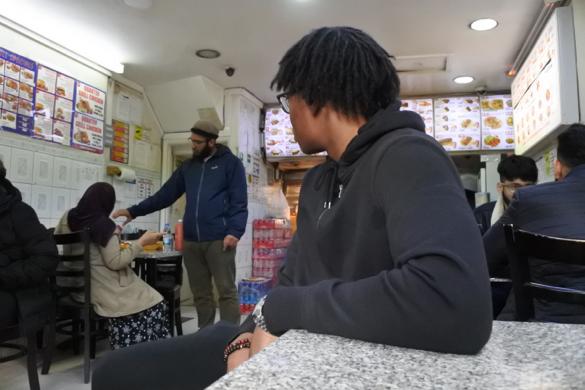 ---

People go to chicken shops for different things. It's not always food, it's not always to find the pengest munch

Additionally, chicken shops are run by real people, who are often friendly and willing to have a chat with you. There may even be an instance where the staff may intentionally give you an extra wing, more chips or even a free drink if they like you. The sense of belonging, that can be found in chicken shops sets them aside from many of the better known 'industrialised' outlets.. Having a local chicken shop to visit, where you know the workers beyond their service, where there is an environment that is not too loud or too busy is essential for a great experience. It is very unlikely for someone to go into a mainstream fast-food restaurant for anything else besides a quick meal and customers should not expect much of a personal touch. London's 'chicken shops' have helped pioneer a culture that is not solely based on business to customer transactions. Furthermore, and particularly for tourists, if they like a particular area in London, they can find a chicken shop and make it their own. The main take-away from this is that mainstream, big brand restaurants belong to the world and provide a homogenous, uniform experience that is identical wherever you go. No matter which McDonald's you visit, it will be exactly the same and never unique because it is a global franchise that everyone knows. Chicken shops are different; they are local businesses that do not primarily focus on marketing. What this means is that generally few people, beyond the locals, will know about them. In short, London's 'chicken shops' provide a different experience with each location and visitors are encouraged to try them during their stay in the capital.

Your local shop symbolises your ends and the people in your community

Some of our favourite chicken shops
We cannot close this particular article without mentioning some of our favourite chicken shops!

Here are some of London's finest establishment (In my humble opinion):

1) The Spice Hut in Mile End Road scored highly in our recent survey. The staff were very friendly, the seating area is nice and their extensive menu will leave you spoiled for choice!

2) Dixie Chicken, again in the Mile End Road is one of our favourites. They provide efficient service, a good portion of chips and plenty of condiments.

3) Chicken Cottage in Holborn was another favourite. There is excellent seating, speedy service and their Piri-Piri salt is fantastic!

4) Favourite Chicken and Ribs, Romford, is slightly off the beaten track but well worth a visit. As well as delivering exceptional food, they are the first UK food chain to declare themselves a GM-free zone.






There are no discussions