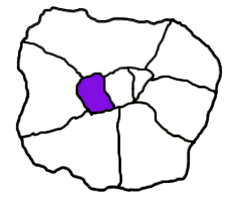 PIN

Campanile Tower, Westminster
Victoria from the Air
Today the Cathedral stands just off Victoria Street and is a beautiful monument to both religious tolerance and architectural endeavour. Those lucky parents to have children graduate from St Mary's University in Twickenham will testify to the inspiring atmosphere experienced by a full congregation.

The 30-meter wide piazza outside the front entrance of Westminster Cathedral was created by a redevelopment of the area in the early 1970s. Previously, the façade of the Cathedral was hidden behind rows of shops on the main road in front of it, Victoria Street.
The Bell Tower (Campanile)
In his first plan for the Cathedral, John Bentley provided for two towers, but at the request of Cardinal Vaughan, one larger campanile was built instead. It is clearly influenced by the Bell Tower of St Mark's Basilica in Venice. To access the Tower, visitors should go to the Cathedral shop and ask to go up in the lift. Once they reach the top, there are some fantastic sights to behold of Victoria and beyond.

The bell tower is nine meters wide at its base and 83 meters high: the final three meters consist of the bronze metropolitan cross. The public viewing platforms stands at 56 meters and a further viewing platform (now closed to the public and accessible by spiral staircase) stands at 66 meters.

The Tower was erected only using internal scaffolding and building materials were taken up in baskets by a hoist powered by a small steam engine.
At 69 meters, the Bell Tower changes from a square to a polygon (shape made of straight lines that all connect) and then finally a dome surrounded by 12 carved stone eagles.

The Tower houses one bell, 'Edward', which was given by the Duchess of Norfolk in April 1910 and weighs 52cwt 10lbs.

Until the lift was installed in 1929, people had to walk the 374 steps to the top. It's now a lot easier to enjoy a bird's eye view of the City. Visitors are advised to take advantage of the lift when coming to the Cathedral.

Tags
History
, Culture
, outdoor
, Victoria
, Downtown Westminster
Location
42 , Francis St, , London , SW1P 1QW
(View on Google Maps)
Hidden gem inside Westminster cathedral
This place is 2.1 miles from 51.5053067,-0.1169357
This place is 69 mins walk from 51.5053067,-0.1169357
This place is City Test outside<br>
Recent Reviews
There are no reviews yet for this Triptoid.